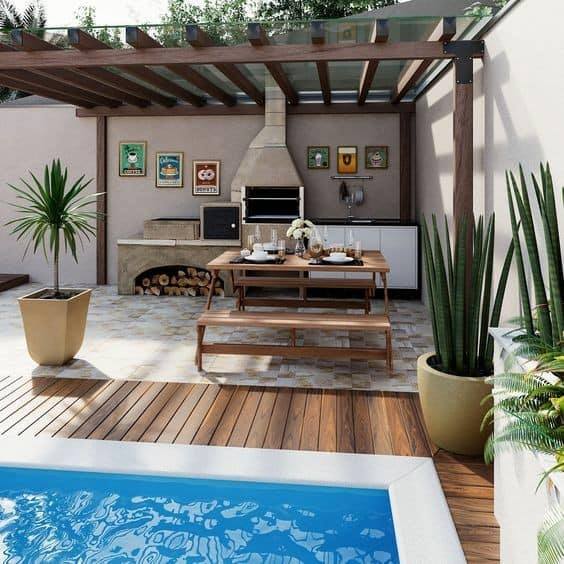 Hello friends, how are you, are you FINE to spend your free time with us and our page? Until now our posts had other dimension and was about the cosmetic theme, health, fitness, psychology which is the most usual themes that we face in everyday situations. Maybe for some of you, this becomes boring and we will change the topic now to make your day a little interesting with family space ideas.
This day we will give you some ideas about the exterior design and how to have your own family space and meetings. Some of these ideas you can use for your own outdoor place and use the summer period for this aim. Forget about going out, save your money, save your time and have an outdoor place with the best design.
Also, read about our last post that was about the best and the most romantic proposals you can offer to your girlfriend/boyfriend 🙂 But first, check the photos now and tell your friends who are in plan to redesign their outdoor places.
Outdoor kitchen place with nice design
In the first photo, you can see an outdoor kitchen that won't keep you so much place but will give place for cooking here. These family spots are great to spend here all the summer period here in preparing dinner and eating your favorite food while also drinking wine!!!
Outdoor kitchen and family spot
In the second photo, you can see bricks walls and outdoor kitchen and if you have large outdoors like this, you can see in the photo now how to decorate your outdoor place and family space.
Nice outdoor kitchen design and decor idea
In the third photo, we can see also the outdoor kitchen place placed in an outdoor place. With a kitchen like this, you will wish to cook here in every free moment and preparing nice food recipes for the whole family. All you need here is a small kitchen in the corner, family gallery wall and nice plants that you can grow here and extending your life. As you can see in this photo there is a small swimming pool which you can use for refreshing during the summer period and having fun here!!!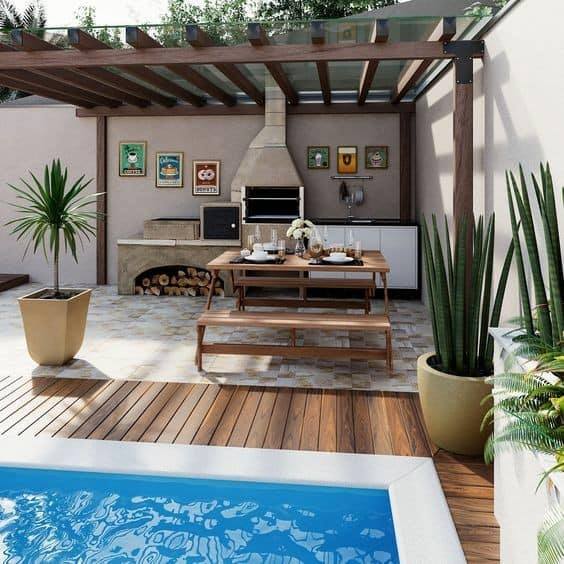 The wooden floor looks nice when it comes to word one outdoor kitchen place
I think that we can all have outdoor kitchen place and wooden pallets for the floor if we dream to have a place outdoors. With this, we can keep clean the kitchen place indoors, to cook outside and to spend time with family. Maybe for this aim, people adore spending time here with family and these places are called family spots. This is the last photo from this post and hopes you found some inspiration in it. Thanks for your attention and have a nice rest of the day with our posts!