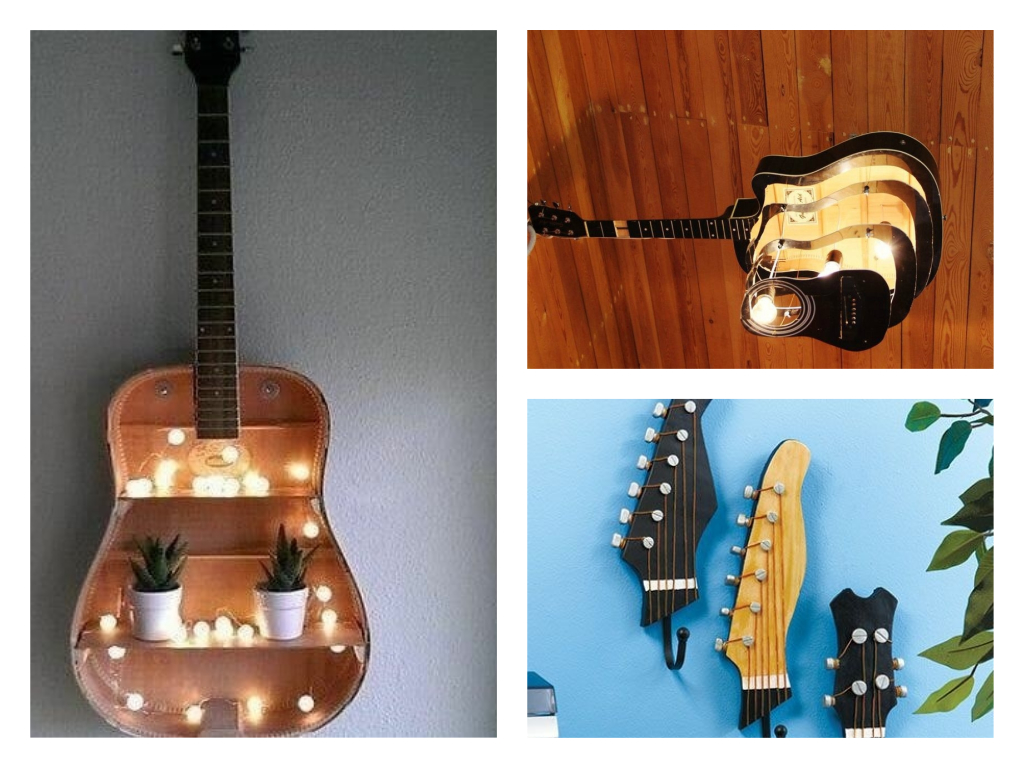 There are thousands of ideas about how to repurpose the old guitars at home. Today, we don't have time to show you thousands of ideas but we will just give you a few repurposed guitars ideas. Most of us have guitars at home that no one plays on it, so this is the REAL time to give them NEW life and make perfect crafts for the house walls.
By the way, also read about the best PALLETS REUSE ideas and make the best vertical garden in an outdoor place.
Make perfect light for bringing the best light in an interior with repurposed guitars
In the first idea of the post, we can see how to transform the old guitar into a nice element at home, to make light. Take a look at it and think if you can do the same thing in your own home.
Amazing wall shelving with hidden lights – done with the old guitar
Just hang the guitar on the house wall and arrange here all decorative elements you have and souvenirs there. You deserve to have the best guitar shelf in a home place. Find some inspiration and ideas in the photo that follows now.
Guitar vertical garden for the balcony place
In the third photo, we can see amazing vertical garden that we can all make it and hang it on the walls of the balcony place.
Make a wall clock by reusing the old guitar
The next idea we have to share with you is a wall clock which we can make in no time and hang it somewhere on our house walls. Be creative to make this at home and give NEw lif to the old guitar that no one uses.
Do it yourself guitar repurposed hanger for the house walls
The best idea you can make for the entrance hall and hang here all coats and umbrellas. Take some inspiration in the photo that follows right now. This is the last idea in this post and hopes you already have some idea for your free time!!!
Thanks a lot for your time and now if you have some old guitars at home, you know what to do with it!!! Have a nice start of the new week!!!